Findings Released on Groundbreaking Study of Jewish Population in Philadelphia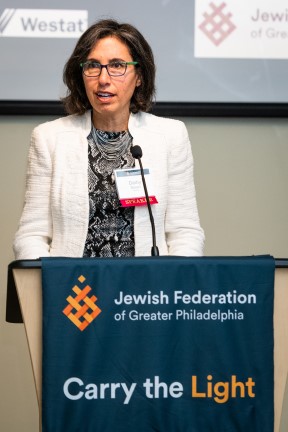 Findings for the latest area-wide Jewish population research study in the Greater Philadelphia area have been released, providing the Jewish Federation of Greater Philadelphia with a valuable resource for community planning and allocating resources.
Westat conducted the survey in 2019, and it was the first to use address-based sampling, an innovative survey model, to study a Jewish community in the United States. The survey provided the opportunity to measure the size of this population and to learn more about its socioeconomic characteristics, health status, use of social services, and perceptions of anti-Semitism and Israel.
Westat Senior Survey Methodologist Darby Steiger, a coauthor with Senior Statistician and Associate Director David Marker, Ph.D., presented the results at a press event on February 11, 2020, reporting that there are now 194,200 Jewish households in the Philadelphia metropolitan area, ranking it as the 3rd largest Jewish population in the United States.
Learn more about the survey and its findings:
Community Portrait: A Population Study of Greater Philadelphia website
Community Portrait: A 2019 Jewish Population Study of Greater Philadelphia (PDF)