National HIV Testing Day: June 27, 2020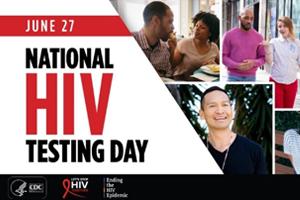 National HIV Testing Day (NHTD) is June 27th. Westat has supported the Centers for Disease Control and Prevention (CDC), Division of HIV Prevention since 2013 and will again lead awareness day activities for CDC's federal, state, and community partners.
Our health communications team creates digital and social media content to support the day, as well as builds sustainable relationships with organizations that can help CDC amplify its HIV prevention messages. For this year's NHTD, we have forged new partnerships with:
Businesses such as The Honey Pot and SheaMoisture
Faith-based organizations such as The Balm in Gilead
Health care organizations such as Pri-Med
Westat also continues to support to existing partners, including Let's Stop HIV Together's Partnering and Communicating Together (PACT) members, The Cut Life, and the National Association of County and City Health Officials.
Because of COVID-19, this year's HIV Testing Day will look different. We are helping CDC pivot from the hundreds of in-person events, such as the Prides and town halls of prior years, to a series of virtual events that will take place throughout June.
The 2020 NHTD theme is about the power of "Knowing"—knowing your HIV status, knowing your risk, knowing your prevention options, and knowing your treatment options. This theme not only highlights the many ways to stay in-the-know about HIV testing but also expands to include broader awareness of the many options related to HIV prevention, testing, and treatment.
We invite you to learn more about NHTD, join with us to raise awareness about HIV testing, and work towards ending HIV in America. Download resources from CDC's National HIV Testing Day page and use the hashtag #HIVTestingDay on your social media channels to connect to the national conversation.
Southern AIDS Coalition Facebook Live; Thursday, June 25, 2020 | 2:00 - 3:30 PM ET. Southern AIDS Coalition is hosting a Facebook Live event featuring leaders at the intersections of faith, social justice, and LGBTQIA+ empowerment discussing HIV in the Black community.
The Cut Life Instagram Live (#HIVTestingDayParty); Saturday, June 27, 2020, 3:00 - 5:00 pm EDT. The Cut Life is hosting a virtual HIV testing party featuring appearances from a diverse set of experts. View thecutlife on Instagram
The Honey Pot Instagram Live; Saturday, June 27, 2020, 6:00 - 7:00 pm EDT. The Honey Pot founder, Beatrice Dixon, is hosting an Instagram Live discussion on HIV testing and sexual health. View thehoneypotco on Instagram