Westat and the National Cancer Institute Celebrate the 20th Anniversary of the Cancer Trials Support Unit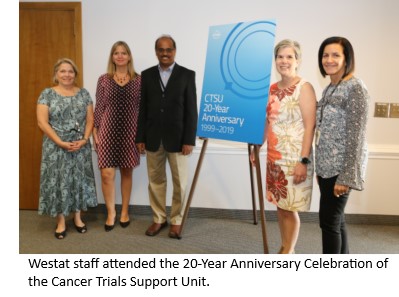 Westat was honored to host visitors from the National Cancer Institute (NCI) at our Rockville, Maryland, campus on September 17, 2019, to celebrate the 20th Anniversary of the Cancer Trials Support Unit (CTSU). Visitors were greeted by Westat President Scott Royal, Ph.D., and Nancy Dianis, Westat Vice President and Practice Director for Clinical Trials. Jeff Abrams, M.D., retired Associate Director of the NCI Cancer Therapy Evaluation Program (CTEP), and Mike Montello, PharmD, MBA, Branch Chief, CTEP, Clinical Trials Operations and Informatics Branch (CTOIB), presented an overview of the CTSU's history and accomplishments.
The CTSU was established in October 1999 as a one-stop shop for NCI investigators, with a mission to make the NCI CTEP clinical trial research program more efficient and effective by implementing centralized services and standardized processes. Over 280,000 patients have enrolled on NCI CTEP protocols using the CTSU's vast array of services and informatics infrastructure. Westat has operated the CTSU since inception, providing innovative solutions to support the NCI CTEP's expanding clinical trials program. Today, the CTSU is an integrated platform used by both researchers and health care providers.
"We're proud of our work as the NCI's partner for the Cancer Trials Support Unit and thrilled to celebrate this milestone with them," said Ms. Dianis. "The CTSU continues to be an important platform for cancer research."