Leading Successful Health Education Campaigns and Meaningfully Mentoring Staff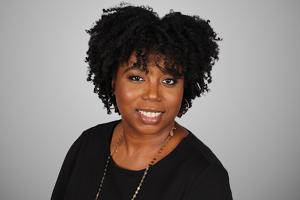 Strong leaders and their agility in supervising and mentoring staff are critical to the successful execution of the projects they manage. TaWanna Berry, M.A., an Associate Director on Westat's Health Communications team, is one such leader. During her 20-year career, she has led highly effective health communications campaigns for both private and government clients. She helped launch the nation's first diabetes prevention campaign—"Small Steps. Big Rewards."—and a recent award-winning HIV testing campaign, "Doing It." Here Ms. Berry discusses her approach to leadership and mentoring.
Q: What leadership skills do you use to deliver successful health education campaigns for clients?
A: You need to listen and ask the right questions of the client and of stakeholders to really understand the health issue and the inherent challenges in influencing behavior change. I'm inquisitive at heart, so asking questions comes naturally to me. But you also need to be an intent listener. If you don't hear the answers, you can't craft a smart, strategic, and creative campaign.
Q: What is an example of a project in which you created a solution that exceeded a client's expectation?
A: I believe we exceeded the expectations of the National Heart, Lung, and Blood Institute (NHLBI) when we developed an overall theme for its observance of Heart Month in 2018. NHLBI wanted a fresh take that would stand the test of time. We created the #OurHearts program with the tagline "Our hearts are healthier together." This resonated so well with the target audience that NHLBI continues to use it. Today, we're building on this success to help NHLBI to update its seminal cardiovascular health program for women, The Heart Truth®.
Q: You supervise a staff and lead large project teams. What are some ways in which you lead and mentor them?
A: I schedule regular one-on-ones with each team member I supervise and encourage frank, open communications with them. Without this kind of transparency, we can't be successful. These meetings give us time to share ideas, discuss our work, report achievements, and solve current challenges. I also take this time to support staff growth by offering new projects for them to work on or suggesting training and professional development opportunities.
Q: In your video presentation, The Importance of Stakeholders, Content, and Microcampaigns in Health Communications for the Health Communications Leadership Initiative, you mention the importance of engaging stakeholders in your "Doing It My Way" microcampaign, which promoted personal stories of everyday people who got HIV tested. Can you expand on that importance?
A: When the Centers for Disease Control and Prevention asked Westat to refresh "Doing It" —a campaign we originated to encourage and normalize HIV testing—for HIV Testing Day, we knew it would be important to have stakeholders share their personal stories of why, where, and how they got tested. We believed these everyday people could empower those within their personal networks who were hesitant to "do it" and get tested. By employing a fresh message and new approach, using social media to expand the campaign's reach, and engaging partner support, the campaign garnered millions of impressions. The campaign won the Berreth Award from the National Public Health Information Coalition for its creative excellence, digital/social media innovation, and effective execution.
Q: Do you have any additional tips on good leadership?
A: Acknowledge your team members for their good work and provide constructive insights to help them grow. Praise goes a long way in boosting moral, and defining areas for improvement helps their career progression.
View The Importance of Stakeholders, Content, and Microcampaigns in Health Communications video below:
Audio described version of The Importance of Stakeholders, Content, and Microcampaigns in Health Communications video
Transcript of The Importance of Stakeholders, Content, and Microcampaigns in Health Communications video (plain text)
You need to listen and ask the right questions of the client and of stakeholders to really understand the health issue and the inherent challenges in influencing behavior change
- TaWanna Berry, an Associate Director, Public Health & Epidemiology