Medidata/Westat 5-Year Anniversary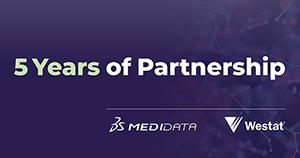 Westat has a long history of working with Medidata Solutions and is proud to celebrate an official 5 years of partnership. Ravi Rajaram, MS, Westat's Vice President and Associate Director for Clinical Research, notes, "As a Medidata partner, we use Rave solutions on a unified study platform, giving clients the confidence that our data services adhere to the highest industry standards. With Medidata's powerful products, Westat has built extensive integration solutions that improve efficiencies at thousands of oncology sites."
Westat is accredited in several Medidata Rave modules, including Electronic Data Capture (EDC), Coder, and Rave Safety Gateway, and our expert teams work directly with clients on the configuration of a wide range of Rave data capture and management solutions. They support the full clinical trial life-cycle and all aspects of documentation and reporting needed to ensure audit readiness, as well as accessibility to data and documentation needed for communicating with key stakeholders and regulatory authorities. Westat's integrated approach to data service offerings can fulfill your organization's research goals by providing real-time data and documentation to answer specific clinical and regulatory objectives.
For more information:
As a Medidata partner, we use Rave solutions on a unified study platform, giving clients the confidence that our data services adhere to the highest industry standards.
- Ravi Rajaram, MS, Vice President & Associate Director, Clinical Research